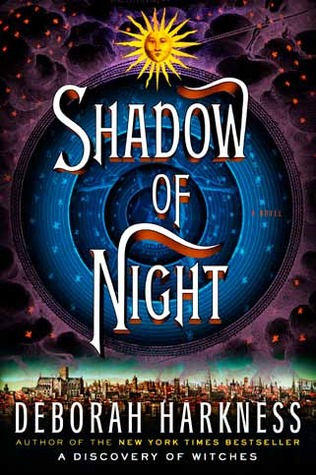 Picking up from A Discovery of Witches' cliffhanger ending, Shadow of Night takes Diana and Matthew on a trip through time to Elizabethan London, where they are plunged into a world of spies, magic, and a coterie of Matthew's old friends, the School of Night. As the search for Ashmole 782 deepens and Diana seeks out a witch to tutor her in magic, the net of Matthew's past tightens around them, and they embark on a very different—and vastly more dangerous—journey.
Hardcover, 584 pages – Published July 10th 2012 by Viking Adult
4/5 stars
This book deserves a Wow as well. Forgive me as I stumble over reviewing this because I'm not so sure how to do so without spoiling some of the first book. It's like seeing a preview to a movie sequel before you've seen the first one, now you definitely know that one lady lives because she's in the second trailer. So then I say to you dear reader, if you haven't read the first book, A Discovery of Witches, and you think you will, don't read this yet. I recommend you just go right to reading it or you can read My Review of A Discovery of Witches. I have no doubt if you enjoy the first one at all you'll have to read the second. By all means if you've read the first and are still unsure, then read on! Or please if you've read them both or the whole trilogy and want to discuss your thoughts and feelings read on and let's chat. I'd love to hear how you thought it worked or what didn't. However, PLEASE do not spoil book three for me!
Okay, some basic spoilers to follow…
This book got saucy with the romance, which we knew it had to but not being a regular romance reader it made me blush. While the author went there with the intimacy I don't think she overdid it. The scenes weren't long and drawn out and many times they concluded or started with other bits of useful information. I really appreciate that about a writer, when they don't box a scene up to serve one purpose. If you don't like romance or reading about intimacy AT ALL, you'll probably get more than a little annoyed. That being said, Diana and Matthew's relationship is central to this story so, pick your battles. Oh and for those of you that might be triggered, there are a couple aggressively passionate love scenes between Matthew & Diana. They're not abusive or unwanted, they're just…intense to say the least. If you ask me, regardless how you feel about love scenes, the overall story is worth it. The scenes are at least PG-13 – R-rated, but don't quote me on that.
Traveling back in time as we did was really interesting. I wondered how it would work out and if it would. Harkness did not disappoint with her research and ability to make it work in a natural way even though time travel is so unfortunately unnatural. Spoiler: she did not force the concept of hiding it from everyone. Lesser or less experienced (pardon me) authors might try and make you believe no one noticed Diana was out of place. You don't just slip back into the 16th century unnoticed. Nope, not Harkness, she works with and through that. The other characters' responses to such details are great.
Now, do I think this book had to be 584 pages? No. It would not have suffered from leaving some more pages on the cutting room floor. At least halfway through the book you might be feeling like you're more than ready to move on from time traveling. There were at least a few places where they mentioned going back to the…future/present and I got excited for a change of pace. Alas it did not yet come. But that's not to say the time spent in the past was full of the same monotonous routine. Not at all. A lot happens in 1590-1, interesting twists and turns full of creepy people. Nonetheless, there's still a lot we could have skipped.
That's probably my biggest critique besides Deborah Harkness' love for lots of setting and time period details, not my favorite. If I liked this amount of detail than she deserves a high five. 😉
This book is full of emotion. There's so much going on what with Matthew returning to a past he once knew, people he once knew and loved. We get to dive into his vulnerability and watch him fight to unfold, unfold and then come back together again. The relationship with his father Phillipe is very special, never mind that Phillipe himself is a well-written, nuanced character. I do hope they personify him well in the TV series because he's so iconic. It would be an enormous shame should they miss the mark. We meet a lot of other great characters, including Matthew's nephew Gallowglass. The characters alone are a great reason to read this book.
This book really gives us a chance to get to know Matthew better. Plus I really enjoyed getting a better look at the history of witches, vampires, and daemons. The traditions and ceremonies were fun, sometimes drawn out, but still interesting.
Lastly…
I want to address something I saw people complaining about in the first book: Matthew's dominant, aggressive personality and behaviors. It seemed his character got the feminists all riled up. Don't forget that Diana is more than attracted to Matthew, she's wildly in love with him, all of him. She's more than capable of handling herself and is in no way an unwilling participant or victim here. I am not implying that whatever he does is made okay because she loves him. Nor am I saying that love somehow makes abuse okay. I'm also not saying that a woman who can handle herself can't be abused. All I'm saying is keep it in the context of the story. Diana is not abused or taken advantage of by Matthew. But there are OTHER people who abuse and physically harm Diana, as we saw in the first book.
It's not okay to hurt or (try to) control another person, whether you're a man, woman or child. It's also important to be able to distinguish an abusive person from a personality you just don't care for. Masculinity is not toxic, but not unlike femininity, it can be.
Deborah Harkness didn't create a chauvinistic prick in Matthew. No, she created a 1,500+ year old alpha male vampire with heavy emphasis on the fact that he is a predator, and I mean predator as in the animal kingdom, not a sexual predator. Matthew is very cognizant of his domineering behavior and worries about the parts of him that make him dangerous. In the first book you discover that he is avoiding being intimate with her. He's worried about the possessive nature of a vampire once they take a mate. I get it if the aggression triggers you and any trauma you may have experienced, and for that I'm sorry if you have those experiences. I'm very sorry if you or anyone you care for has been affected by abuse and/or violence of any kind. It's never acceptable for anyone to be taken or used in any way against their will. I do not condone violent masculinity and I'm not supporting it here. But there's a difference between highly masculine men and abusive masculinity. However that is NOT what is happening in this story with Diana and Matthew. His over-protectiveness is not the abusive kind; he has EVERY right to be worried about and for her. His behavior cannot be taken out of context. And lest you forget, Diana more than handles herself when she thinks people MIGHT being pushing her around.
Diana and Matthew's relationship is not an abusive one. While there are elements that might trigger you, kept in the context of the story, you will see that there is a real relationship of love and compassion. And let me tell you, Diana does more than what she wants. There are more than plenty of instances where Diana will annoy you because she doesn't listen and just goes and does what she wants. Trust that Diana very much her own woman no matter.
I welcome your thoughts and comments, but not your book three spoilers. 😉 If you read this based on my referral please give me a shout out on your blog and link back to me here. I will start reading Book 3, The Book of Life, immediately following so stay tuned for my review of that in the next couple weeks. Then I'll give watching the AMC TV series a try, although I'll tell you right now, I don't like their pick for Matthew.
Thank you! If you want to read more of my reviews, CLICK HERE.
You can also see what I'm reading at 2019 TBR
Or what I plan to read soon Spring 2019 TBR