Thank you Destiny @ Howling Libraries for your Spring TBR post. You inspired and motivated me to break my 2019 TBR down further into seasonal TBRs. It seems a strange thing to say this but gosh it's almost hard to pin myself down, to commit to reading certain books within a certain time! Most of the time I base what I'm reading off spontaneous thoughts and feelings. I see a book, on my shelf or a shelf (or in my Kindle), and say okay that's next or that's now.
However as a book blogger and a blogger period I do think it helps to let my audience know what's coming up in case you want to read along with me or follow me to stay tuned for a review. First I broke my Goodreads TBR down to my current 2019 TBR. And now I'm going to break that down to this here Spring TBR, in no particular order. Which, disclaimer, may be subject to change. 😉 Feel free to post your comments at the end. Thank you!
This first title, Catching Teller Crow by Ambelin Kwaymullina & Ezekiel Kwaymullina, is a book I found at Books and Tea with Brittany. Brittany is an Australian blogger I just found and mentions this book is by Aborginal authors. It sounds really interesting, a woman has died and her father a detective is the only one who can see her and together they work to solve a mystery. Follow the above link to read the full synopsis on Goodreads.
The Deepest Blue By Sarah Beth Durst JUST came out, and I even more JUST got my copy. This is a standalone continuation of the Tales of Renthia. Prior to this book there was the Queens of Renthia trilogy that I read and enjoyed very much last year. So it's with great joy I heard about this from Mrs. Durst's page, a story set in another part of the same world. Yeah!
Oh and I read the book Lost and loved it by this author but the rest of the trilogy apparently isn't forthcoming after all. However we may have reason to believe that series will be put to TV or movie. Oh my gosh, let's hope so! That was a great book and I really wish they would have published the rest of the trilogy/series.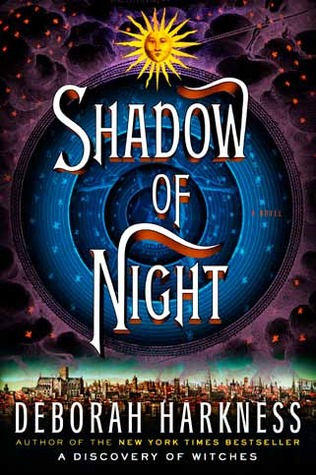 Another trilogy I'm very happy to be reading. Shadow of Night by Deborah Harkness is the second in the All Souls Trilogy. The first was A Discovery of Witches. Kind of a big book but it was well worth it. In fact I just lent the book to my Great Aunt, let's see if she likes it! I'm not a Twilight fan so if you also aren't don't get worried when I say witches, vampires, daemons and more. We've got ancient magic, a witch discovering her powers and why is everyone so obsessed with her? There's some romance here – not a romance reader myself – and it works for me, well at least the first book. This is also a book that they're going to be reading in the Goodreads' group Bookworm Bitches in April. I'll be reading this along with them.
If you've read any of my other posts yet you might know I'm going to be reading this very soon, like this week. The Voyage of the Basilisk by Marie Brennan is the third book in the Memoirs of Lady Trent series. I recently finished The Tropic of Serpents #2, click to learn more. Imagine reading a journal of sorts about a woman in a different, though similar, world long ago studying dragons around the world. You can bet I'll be reading this entire series (I think there's five total.) I'll also be following the author in the future.
The Honours by Tim Clare is a fantasy book I just started, well like a week ago. I follow his podcast about writing, Death of A Thousand Cuts, and wanted to give his writing a shot. This is the first book, a sequel is to follow this May. My plan is to finish this, hopefully love it, and pre-order his second book, The Ice House, and provide a fellow author the much-needed support.
Binti – Home by Nnedi Okorafor is the second book in this trilogy. This science fiction story started with Binti (my review here) which was a short and great read about a young lady leaving her home for a distinguished university on another planet. But of course, it's not that simple, things go real wrong. Original, creative, beautiful story. Can't wait. This one's a little longer but 176 pages, not long. I've also read – forget I read it years ago and re-added to my TBR – Book of Phoenix by Nnedi and became a fan of hers then. You can expect to hear about more from this author.
The Night Masquerade is the final book in this trilogy. Little big longer than the first two but still short at about 200 or so pages. Definitely plan to finish this series this spring.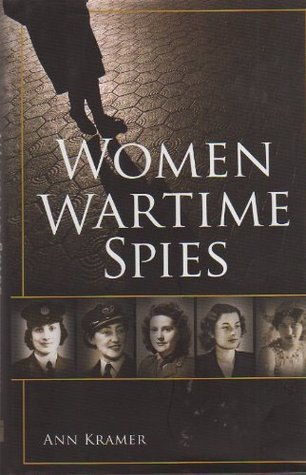 Women Wartime Spies by Ann Kramer is a book I've had in my personal library for a LONG time. I wrote about this and other such books in the post Here's What's Up: Rediscovering Books. Check it out.
I'm currently reading My Age of Anxiety by Scott Stossel. This is a sort of academic non-fiction that I'm slowly picking my way through. It's very interesting and well-researched. He not only shares his own experience with mental illness but looks into the history and research surrounding anxiety disorders. Check it out if you're curious.
Yes I'm still reading this. Ugh, these last few weeks have not been good reading weeks. But Everfair by Nisi Shawl will hopefully be finished this week. I'm including it here because it's spring and I'm currently reading this, so I think it makes sense to add it to my Spring TBR. I will say if you haven't read it here already, I'm not loving this book and have fought to finish instead of DNF. Stay tuned for my review.
Yes I will be re-reading this as I recently realized that I have in fact read this book a couple years ago. Imagine that. That means I came across Binti having forgotten I've already read from this author! Lol, oh dear. I do remember that I really liked this book and I think I owe it a re-read even though reading books more than once is not really my thing. But The Book of Phoenix by Nnedi Okorafor is an awesome book.
Another book my from Here's What's Up: Rediscovering Books series. The Greek Poets – Homer to the Present is a behemoth I will start reading this spring, maybe I'll finish or maybe I won't until summer. Either way I'm going to pick at this slowly with no rush to finish.
Here we have another from Here's What's Up: Rediscovering books. Lab Girl by Hope Jahren has been sitting on my shelf for a couple years. It's about time and perfect for the season to read about a woman in science with a love for plants. Right up my alley.
Wow, I feel so limited to have to stop and yet I'm not a fast reader! When I think about how much time I actually have, what with work and writing my novel, this is an ambitious list for the next couple of months. I want to add more just because I get excited thinking about reading books but I have to be realistic. Besides, I'd rather be like oh my gosh people, I read alllllllllllllll those and here's another. LOL! Or maybe they'll bleed over into summer. Whatever the case, this is going to be a good season for bookish adventures.
Stay tuned for my more detailed April plans or go back and check out March Plans, whatever makes you happy.
I'd love to know if you're reading any of these books or plan to. Now don't go spoiling anything for me but I still want to hear your thoughts. What about your Spring list, are we similar? Not at all, no way? Do you think I'm crazy for trying to read all these or maybe you're more crazy than me? Come on, comment, let's share notes.
Please like and comment if you enjoy my posts. Absolutely please do follow me if you want to keep up and stay tuned. I post reviews shortly after I finish books and I'm posting monthly plans so you have a better idea of what's coming up.