First week of March is over already? Oh dear, I guess my hopes that time would slow down now that we're almost out of winter won't be realized. Bummer. That said, March as we all know is home to the spring equinox, and spring is the kick off to lots of activities. Yard work, house work (remodels, repairs, flips, rentals), exercise (sure this is a year long thing but ya know, gotta get ready for summer), bonfires, BBQs, outdoor adventures, gardening perhaps. So so much to do with those long days.
All this activity means sitting around reading will be a bit more difficult. However, it's not impossible especially when reading is kind of a priority, although writing is a greater priority. (Beware writers, reading is an excellent EXCUSE not to write. Lol.) This is one reason it's a great idea to lay out some March plans. I'll be creating a lot of plans for a lot of different things but not sharing them all here. What I will share here, right here right now, are my reading and writing plans for March.
While browsing the world of Book Bloggers I found an interesting post, well two, about book blog post ideas. It's a collaboration between two book bloggers, one posts 10 ideas then links to the other who shares another 15. Interesting post and really cool idea and execution of a collaboration. You can find these lists at Elated Books by El and 10 more from Maggie at Dreaming of Guatemala. I'm mentioning this now because as you might know I already have a 2019 TBR page. However, what I've not done is told you guys what I'm about to read and why. I just listed all the books I'm so far planning (read: hoping) to read in 2019.
Their list inspired me be more interactive with my TBR. This means my March plans will include specific books, the order I will read them, why I have them in the first place, why I'm reading them now, and if applicable how I heard of the book. This way you know in advance what I'll be talking about and maybe you can read along with me. It might be difficult for me to make these March plans, as I like to choose the books I read spontaneously. But I've been planning my reads in advance more often. With so many books to read it helps to have some kind of method for choosing.
What am I talking about? Well for example, I finished Phantom Pains by Mishell Baker earlier this year. Last year I started the series with Borderline. Having finished Phantom Pains rather quickly (for me) I thought it best to start Impostor Syndrome sooner than later so my connection to the story would be current. It was nice to have read #2 & 3 closer together than #1 & 2.
Also, I read Marie Brennan's A Natural History of Dragons quite a while ago. I shelved it on Goodreads back in 2015 and apparently never wrote a review. Eh… of course I enjoyed it, I'm going to read book 3 this month! I read The Tropic of Serpents (Lady Trent #2) last month. Just like with The Arcadia Project, I want to read #3 closer to having read the last one. This is a great segue into my March plans for reading!
March Plans for Reading
At present I'm reading three books; Gutshot by Amelia Gray (a collection of short stories), Everfair by Nisi Shawl (alternate history/historical fantasy/steampunk novel), and My Age of Anxiety: Fear, Hope, Dread and the Search for Peace of Mind by Scott Stossel (non-fiction). The first two I will finish by the end of this weekend. The non-fiction I will finish in the next two weeks (that's the deadline I'm going to give myself).
I have been reading Everfair for quite some time now. To be honest I've come really close to DNFing it. Nisi Shawl is clearly a talented writer however I'm not a fan of her style of writing and I'm leaning towards the idea that I'm also not a fan of this genre. I'm more than 3/4 of the way through this book and I still can't get into it, it's like there's no solid story to grab hold of even though this is an alternate telling of history, so there's a real life story under there!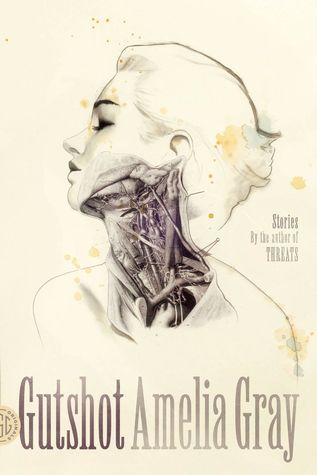 Gutshot is my first collection of short stories in a long time. While I would like to read more collections than I do now this one isn't turning out to be my cup of tea or coffee. In my most humble opinion, there's not a lot of meat on the bones of these stories. I'm sure they're the type to read in between the lines with deeper meanings and all but that's not the type of story I want to read. I'll go to poetry for that. It's a short book so DNFing isn't necessary, I'll see it all the way through.
No need to go into my feelings about My Age of Anxiety now, it's a non-fiction so it's going to take me a little longer and I'm not even halfway through. Instead let's go back to March plans for reading!
After I finish the first two, the fiction books, I will start on The Honours by Tim Clare in Kindle format and The Voyage of the Basilisk (The Memoirs of Lady Trent #3) by Marie Brennan in paperback format. So I will start these on the 10th or 11th if not a little sooner.
The Honours by Tim Clare
The Honours is written by the podcaster Tim Clare. I've been listening to him using the app Podcast Addict for a little under a year now. I do enjoy his eccentric nature though some of his rants get a little long. That said he has a new book coming out in May, The Ice House, a sort of sequel to The Honours. He's hoping to get enough pre-orders to make it on a best seller list. I haven't read The Honours already because I'm not entirely sure it's my kind of story but it's good to support fellow writers you enjoy if you can. So I'm going to give his book a shot and now so if I do enjoy his writing I can pre-order The Ice House.
The Voyage of the Basilisk (The Memoirs of Lady Trent #3) by Marie Brennan
The Voyage of the Basilisk is the third book in this series and seeing as I liked the first two naturally I'm going to go ahead and continue reading this series. I don't recall how I found this series and this author in the first place. It was probably a random find for me, meaning no one suggested it to me, just sounded interesting. I also plan to read more books by Marie Brennan.
If I finish these two fiction books before the end of March then I will start on The Book of Phoenix by Nnedi Okorafor. Here's some fun irony… I can't remember exactly how I found this book, either from an Amazon recommendation or just a random. But I have had it for some time. Fast forward to the present. Browsing Book Outlet for something interesting I found Binti by Nnedi Okorafor. Ordered it. Got it. Read it (click the link above to read my review) and loved it. That led me to look for more work by the author. Naturally I added the Binti sequels to my TBR (probably will make my April plans for reading) but I also saw other books that looked interesting. This book stood out, I knew I'd seen it before but where? I then looked around for how best to get the book.
Don't you know I forgot I already had it? Yup. Yup. Guilty. But it kept nagging at me that I was aware of the book prior to reading Binti. So here I've read Binti, became a fan of Nnedi, while sitting in a stack of books in my dining room was The Book of Phoenix waiting for me. My dining room table is tall, think bar stool tall with storage underneath, part of the reason I chose it. Naturally books dominate this storage. So a couple weeks ago I was sweeping and bent down to fill the dust pan. This particular sweeping event had me facing some of the books under the table and BAM! Hey I know that book! The Book of the Phoenix is now out and visible and stands out even more due to this series of events. Strange right?
Okay this post is super long, they won't all be but since March plans are my first in this "series" it's naturally a little longer. But there you have it, hit me up if you plan to read any of these or if you have (do not leave me spoilers!). Stay posted for reviews and thoughts on the books I finish and updates for when I start the new ones.
Check out my 2019 TBR to see what else I want to read this year. If there's something you're dying to read or hear about let me know because you never know, I might push it up my list just for you. 😉