Thanks Howling Libraries for your Wednesday meme post!
WWW Wednesday is a bookish meme hosted by Taking on a World of Words where they revived it after its former host MizB at A Daily Rhythm. To participate you answer the 3 W's (on Wednesday):
What are you currently reading?
What did you recently finish reading?
What do you think you'll read next?
And of course I'll link back to the host (click the link above) as well as link back to the blogger I first saw participating in this (the link to Howling Libraries). Finally I'll post my link back to me on the host's page! Yeah, go networking! Should you decide to participate then that's what ya do. 😀
What I'm Currently Reading:
Okay guys, don't make any faces. No, that's fine, make faces or what have you. Lol. Still reading the non-fiction (well it's been a minute since I picked it up to be honest) My Age of Anxiety by Scott Stossel. So much to do so little time I kind of forgot about this investigation into all things anxiety. Whoops…
Do I even mention Everfair by Nisi Shawl? Ugh, I haven't picked it up in ages. I have by default DNF'd this I think it's fair to say. I keep swearing that I'm going to finish it because I got as far as I did but every time I think about it it feels like a homework assignment. I guess I feel bad because this is inspired by real historical events, it's an awesome concept and she's a good writer. It's an alternate history/historical fantasy/steampunk novel (that sounds cool by itself right?) about the Belgian occupation in the Congo. Here's part of the Goodreads' synopsis:
"Everfair is a wonderful Neo-Victorian alternate history novel that explores the question of what might have come of Belgium's disastrous colonization of the Congo if the native populations had learned about steam technology a bit earlier. Fabian Socialists from Great Britian join forces with African-American missionaries to purchase land from the Belgian Congo's "owner," King Leopold II. This land, named Everfair, is set aside as a safe haven, an imaginary Utopia for native populations of the Congo as well as escaped slaves returning from America and other places where African natives were being mistreated."
Now fast forward to discovering the narrative structure makes reading more difficult and disengaging than intriguing and engaging. Connecting with the characters was not so easily done and the story itself felt disjointed and lacking. But I REALLY REALLY wanted to like this! It has not been exciting as I thought it would be. So as of right now I'm going to DNF this book although I'll let it linger on Goodreads.
Moving on…
I'm more than half way through Shadow of Night (All Souls Trilogy, #2) by Deborah Harkness. This is a big book in my world, 584 pages, but it's pretty awesome. I loved the first one, A Discovery of Witches, and even got my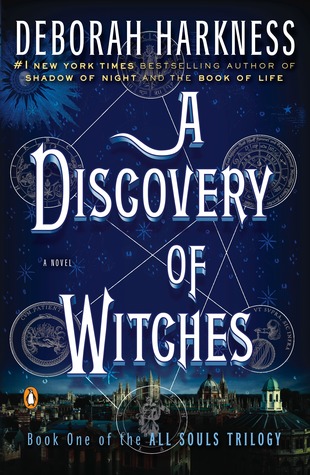 Great Aunt reading it. She just asked me the other day if she could get book two as she would be finished with #1 soon. I was maybe a quarter in so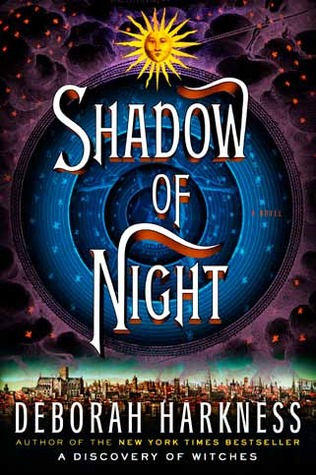 she's going to have to wait but I've turned up the reading especially considering the Goodreads group I'm in is reading this this month as well. I'd like to join some discussions.
This paranormal fantasy with some historical fiction going on as well as some saucy romance is well-written though very long what with all the setting descriptions (I do believe the author has a thing for historic buildings) among others. Let me just add that the romance gets turned up a bit in this book. 😉 There's a large cast of characters but Diana (witch) and Matthew (vampire) are our main protagonists engaging in forbidden love, as adults. If you haven't read A Discovery of Witches that might be a tad of a spoiler although it probably wouldn't take you long to guess they'd
hook up. I won't say much more but I plan to use this book in a post about reading as a writer and how this story works. Deborah Harkness crafts a great story here with plenty of activity and intrigue, mystery and twists. I'll finish this before the month is up and probably read the third book, The Book of Life, in May.
What I Recently Finished Was:
I finished this a couple weeks ago now, I know I know I owe you a review and I promised it would be forthcoming. Well folks I'm behind, so let's just say you'll get it this week. While I enjoyed this book I was a little disappointed. I would recommend it should you like what you read in the synopsis or if you liked the Queens of Renthia trilogy by this author. But I don't think it lived up to the hype, at least not for me. I'm sitting between 3 – 3.5 stars, so it's still good there's just some specific things that kind of drove me nuts.
And since I haven't done WWW Wednesday in forever I want to add the book I finished before The Deepest Blue, which was The Honours by Tim Clare. His new book The Ice House is coming out in early May, really looking forward to that. Tim is a podcaster I follow and now an author I also follow. I do recommend you check out his work as well as my review.
What Will I Read Next?
Next up is The Voyage of the Basilisk by Marie Brennan. This is the third book in The Memoirs of Lady Trent series, a very interesting fantasy series
imagining a world with not only dragons but many different species of dragons. I've got all five books so know you'll be hearing a bit about this series for the rest of the season.
I'll also be starting The Greek Poets: Homer to the Present and Women Wartime Spies, both books from my post Here's What's Up: Rediscovering books.
In addition I'll be rereading Nnedi Okorafor's The Book of Phoenix.
Stay tuned for my May TBR (don't think I ever posted an April TBR!) and plans for May. I do have my Spring 2019 TBR if you want to look a little farther into the future of what I plan to read. Then you can say oh yeah I do want to follow eLPy because I'm interested to hear about… 😉 And check out my 2019 TBR to look even farther in to the future. Expect updates!
I've got my mind on some writing based posts that I'm looking forward to writing, including Writer's Block is Not A Thing. If you already disagree with me, great let's discuss! So keep your eyes open for that post and see what I have to say. You never know, you just might agree with me after all.
Until next time this is what I've got for you for WWW Wednesday. If you read Everfair let me know what you think please. Maybe it just wasn't my cup of tea, because she certainly deserves credit for her writing talent. And what about the others? Have you read the All Souls Trilogy? Did you love it? Do you know there's a TV series that just premiered some weeks ago? I haven't seen any of it because I don't want to yet, at least not until I've finished book two. I'll probably even wait until I've finished the whole trilogy.
Okay folks, I'm out for now. Thanks for reading my WWW Wednesday!