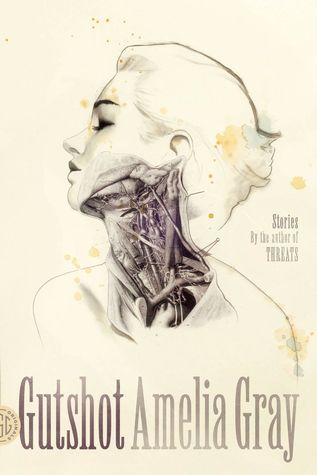 I really tried with this book; I swore I was going to finish it even though I'd taken almost zero interest in the first 80 pages I read. Last night I skipped around to a few more stories because I felt guilty about the very idea that I was going to DNF it. You can't just quit a book!
But where's my integrity? I've been talking about DNFing and reading other blog posts about DNFing books. At the end of the day I think we all agree there's not enough time to spend it reading a book you don't like when we all also agree that there's too many books to read every single one you could ever want! So there I was reading a book that was like plugging my nose to avoid tasting what I'm eating. I just wanted to hurry up and get through it and call it read.
If I had one hundred or so pages left to go in that book but I was barely interested 80 pages in, why? That's one hundred pages I could be into the next book such as The Honours or The Voyage of the Basilisk. At least the latter I know I'm going to like a little bit because I've liked the first two in The Memoirs of Lady Trent series. And The Honours, well I know there's a story there, it sounds interesting, and I like the author's podcast. Do I really want to keep reading a collection of stories that has me saying
This might as well be my review but no, I'm going to follow the format I've used on other books and give you my Goodreads review.
(My DNF & review of Gutshot follows)
A searing new collection from the inimitable Amelia Gray

A woman creeps through the ductwork of a quiet home. A medical procedure reveals an object of worship. A carnivorous reptile divides and cauterizes a town. Amelia Gray's curio cabinet expands in Gutshot, where isolation and coupling are pushed to their dark and outrageous edges. These singular stories live and breathe on their own, pulsating with energy and humanness and a glorious sense of humor. Hers are stories that you will read and reread—raw gems that burrow into your brain, reminders of just how strange and beautiful our world is. These collected stories come to us like a vivisected body, the whole that is all the more elegant and breathtaking for exploring its most grotesque and intimate lightless viscera.
Paperback, 209 pagesPublished April 14th 2015 by Fsg Originals (first published March 3rd 2015)
My DNF & Review of Gutshot by Amelia Gray
1/5 stars (sorry, not sorry)
I don't know if it's fair to leave a rating for a book I didn't finish but then again this is a testament to how I feel about this book and what I'd rate it, so I did.
The reason I DNFed this book is because it wasn't interesting to me. I gave it a chance, for real, I read almost half the book. Let me tell you it is very difficult for me to just quit a book. Given how small it is I was determined to read it in its entirety but then I came across a story that was extra graphic and violent. It turned me off completely. I'm not skittish about violence but this felt like it was just violent to be violent. I'm sure there was a deeper meaning but it wasn't worth spending anymore time on it, even though I read the story to the end to see if it was worth it after all. Nope. The stories I did read in addition to that one weren't anymore interesting. So many of them were pointless. At the end of the story I'd sit there thinking, did I miss something or was that not a story at all? I got tired of wondering about the rest of the story between the lines, I couldn't get into the story on the lines.
I get stories having a deeper meaning and subtle nuances but they have to be interesting to start. Sure there were pieces here and there that made me decide to keep reading. I thought this was going to be my cup of tea but turns out it's not. And I've decided not to be afraid to DNF books that I'm just not connecting to at all. Why when there are so many I will enjoy at least half the time? 
I like weird stories but I want there to be a story, some meat on the bone and these stories were just bone IMHO, like broken bones. Reading the blurb again I feel a little cheated because that makes the book sound really interesting. It turned out to be like a movie trailer in which all the good parts are in the trailer.
Have you read this book? Do you plan to? Let me know what you thought, feel free to share your thoughts even if you disagree. I love discussion!
CLICK HERE to check out my other reviews.
And visit my 2019 TBR to see what's piquing my interest. You'll find what I've read so far this year, what I'm currently reading, and what I plan to read. How do our TBRs compare?