This Saturday's installment for Here's What's Up is bookish. The theme is re-discovering books. By this I mean books I've had for a long time just chilling on the shelf.
While packing and unpacking a recent move I encountered books that had long become decorative pieces that made up those things called bookshelves. It's easy to get on a kick about a certain subject, author, theme, you name it. You pick up some books. You put them on the shelf then stand back in awe of the beauty they've added to your collection. Ah if only you could read faster and read them all this week, or this month perhaps. Sigh.
Then life does that thing it does and makes a turn, a hard turn sometimes at that. You forget all about how hard-pressed you were to read your entire library, new and old. How you'd just found this new author and picked up two of their 15 books with the promise to read them all. Those new books on your bookshelf fade into the background. They become a piece of decorative wall art. That one you started with the cool new bookmark gets buried on your desk or permanently lodged in the bag you were always carrying before time changed. Your books are now in the ether of dreams. Fear not! Here's what's up with those books (well mine).
As I unpacked my books I sorted them. These are going to be sold or given away. Those are going to be packed and put in the attic (until a new bookshelf magically appears). And these, yup these right here, are going to be put somewhere nearby and added to my TBR. The books I mention here are books of different origins and eras (in my life) that I will add to my 2019 TBR. They are all over the place in genre and decade, as well as condition. Most I've not read. So I thought it would be fun to share some of my new old stock with you for this week's Here's What's Up Book Lovers: Rediscovering books.
OH bonus for this post is the fact that this first book fits right into Women's History Month, which is right now, March, in case you didn't know. And let's just say all the books I add written by women count because well they're history, they've already been published. 😉
Women Wartime Spies by Ann Kramer
Synopsis from Goodreads: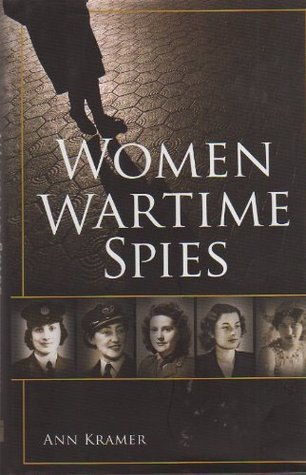 From Mata Hari through to Noor Inyat Khan, women spies have rarely received the recognition they deserve. They have often been trivialized and, in cinema and popular fiction, stereotyped as vamps or dupes. The reality is very different. As spies, women have played a critical role during wartime, receiving and passing on vital information, frequently at considerable risk. Often able to blend into their background more easily than their male counterparts, women have worked as couriers, transmitters and with resistance fighters, their achievements often unknown. Many have died. Ann Kramer describes the role of women spies during wartime, with particular reference to the two world wars. She looks at why some women chose to become spies, their motives and backgrounds. She looks at the experience of women spies during wartime, what training they received, and what skills they needed. She examines the reality of life for a woman spy, operating behind enemy lines, and explores and explodes the myths about women spies that continue until the present day. The focus is mainly on Britain but will also take an international view as appropriate.
Hardcover, 171 pagesPublished 2011 by MJF Books
Here's what's up with this book:
Yes it was a bargain priced book at Barnes & Noble that pushed me to buy this book. But what really made me reach for it is the fact that my late Grandmother was a W.A.S.P., a Women's Airforce Service Pilot. These women were trained pilots who tested and ferried aircrafts in addition to training other pilots during World War II. Their existence meant that more men were freed up for combat. Despite the courageous work they did they had no military standing. In fact, they didn't receive veteran status for their World War II service until 1977. Then in 2009, President Barack Obama signed the WASP Congressional Gold Medal bill into law. My Grandmother was lucky enough to live to see and attend that day. She was a brave, adventurous woman who continued to fly until old age deemed it unsafe. I'll never forget the story of how she applied to fly for a commercial airline as a young woman but was turned down. They said she was over-qualified for the job but would not be hired because she was a woman.
Hats off to you Grandma! Thank you to all the WASPs and to all the vets everywhere. My Grandfather is also a WWII vet. So this book drew my interest for personal reasons, though neither of them were spies. I hope to read it in April.
The Teachings of Don Juan: A Yaqui Way of Knowledge (Book #1) by Carlos Castaneda
Synopsis from Goodreads:
The story of a remarkable spiritual journey, the first awesone steps on the road to becoming "a man of knowledge," the road that continues with A Separate Reality and Journey To ixtlan. Includes The Teachings and A Structural Analysis.
Paperback, 288 pages – Published 1983 by Touchstone/Simon & Schuster (first published 1968)
Here's what's up with this book:
To be honest I don't remember exactly how and why I have this. I kind of know why. It's a book I've heard of before and thought eh, let's see what this is all about. Seemed up my ally. And when I open the cover of this used, I'd say worn paperback, I find I wrote my name and 07/06′. There ya go, I got this in 2006 either at a garage sale (maybe) or used book stand/store.
Lab Girl by Hope Jahren
Synopsis from Goodreads:
Acclaimed scientist Hope Jahren has built three laboratories in which she's studied trees, flowers, seeds, and soil. Her first book is a revelatory treatise on plant life—but it is also so much more.

Lab Girl is a book about work, love, and the mountains that can be moved when those two things come together. It is told through Jahren's stories: about her childhood in rural Minnesota with an uncompromising mother and a father who encouraged hours of play in his classroom's labs; about how she found a sanctuary in science, and learned to perform lab work done "with both the heart and the hands"; and about the inevitable disappointments, but also the triumphs and exhilarating discoveries, of scientific work.
Yet at the core of this book is the story of a relationship Jahren forged with a brilliant, wounded man named Bill, who becomes her lab partner and best friend. Their sometimes rogue adventures in science take them from the Midwest across the United States and back again, over the Atlantic to the ever-light skies of the North Pole and to tropical Hawaii, where she and her lab currently make their home.
Hardcover, 290 pagesPublished April 5th 2016 by Knopf (first published March 1st 2016)
Here's what's up with this book:
This book as you see above is about three years old, which is probably how long I've had it. I like science and I love plants. This book was 20% off in Barnes & Noble and therefore out on display. The cool cover and the title drew me in like fish on a line. And come to find out, it was nominated for a whole bunch of awards! This is right on time for Spring TBR.
The Greek Poets: Homer to the Present, edited by Peter Constantine, Rachel Hadas, Edmund Keeley, & Karen Van Dyck
Synopsis from Goodreads:
This landmark volume captures three millennia of Greek poetry—more than 1,000 poems and 200 poets. From the epics of Homeric Greece to the historical and erotic ironies of Cavafy, from the romances, hymns, and bawdy rhymes of Byzantium to the innovative voices of a resurgent twentieth century, this anthology brings together the diverse strands of the Greek poetic tradition. The favorites are all here—raging Achilles, restless Odysseus, strong-hearted Penelope—but The Greek Poets also presents neglected eras, from the rise of Constantinople to the end of the Ottoman occupation. In offering canonical poets such as Sappho and Pindar, and the modern Nobel laureates Seferis and Elytis, the renowned editors give us their new translations and bring together other masterful translators, including Robert Fagles, James Merrill, and W. S. Merwin, along with a younger generation that includes Anne Carson, Paul Muldoon, and Alicia Stallings. This is an essential companion to the Western literary tradition.
Hardcover, 736 pages – Published December 14th 2009 by W. W. Norton & Company
Here's what's up with this book:
This behemoth was a gift. I believe at the time I got this book (not when it was published) I was in the midst of or had already published my poetry book. It was an interest (and still is though it's a bit side-lined) of mine to read more poetry especially classics such as these. So a family member found this book and wah-la! It joined my shelf…
Let me be candid in saying I didn't request to read the Greek Poets specifically (don't give me that kind of credit) and I did take Intro to Mythology in college but by now, these will be new adventures all over again, and just new period. I'm actually kind of excited. 😉
Of course given what it is, this is a big book. And because it's a compilation, I don't feel pressure to read it in one take all on its own. Phew. This is a book I will pick at, reading some here and there with the goal to finish this spring (deadline: summer equinox).
As I wrote this I decided that Here's What's Up: Rediscovering Books will be ongoing until announced otherwise. I'm going to stop this post at four books though there are many others that I have rediscovered. I think I'll pop in every so often and update or add to these ongoing discoveries. You'll find books like Dana Stabenow's Liam Campbell & Kate Shugak series, as well as books I'll be reading for research for my novel, and a number of non-fiction books. This series of posts will probably extend to titles that come to mind as I travel down the rabbit hole of the past and authors I used to read.
Of course when I finish a book I'll have something to say about it. I mean that's the point of a book blog right? So stay tuned for my progress on these books, reading to start in April. Which also means you should stay tuned for my April Plans post and an update to March Plans, progress report or something to that effect.
Now it's comment time! Are you familiar with any of these books I've posted here?
What do you do when you "re-find" old books? After reading this consider going back to your older bookshelf and browsing for new old finds. If you decide to do a similar post please link back to me here and post your link in my comments. This could be a fun book meme! And of course tell me about your rediscoveries!